Democracy and the Informed Citizen
We're training and supporting "Community Scribes" from six South Jersey towns in partnership with community-engaged reporting experts.
Stories Invincible
NJCH is a proud sponsor of Stories Invincible, a Camden-based restorative narrative initiative supporting reporting by and for communities of color in South Jersey.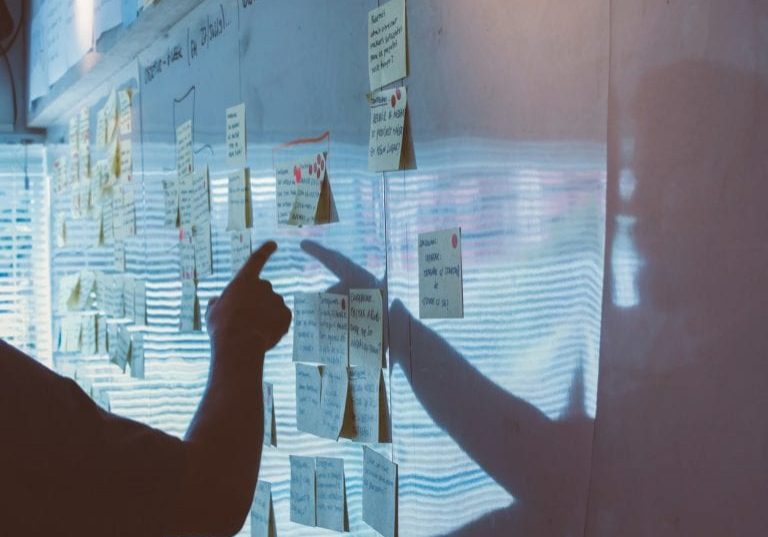 Fueling Grassroots Journalism in NJ Community Colleges
NJCH and The New School will deliver tuition-free certificate programs and journalism, storytelling, and media literacy trainings to new populations.
Fueling Grassroots Journalism in NJ Community Colleges
NJCH and Journalism + Design at the New School are partnering with a set of community colleges around the state in 2023-24 to create and deliver tuition-free noncredit [civic media] certificate offerings, to equip people with tools to better understand and articulate what's happening in their communities.
These certificates, unique to each school and created with input from local community partners and media organizations, will give participants transferable skills from a variety of disciplines – including journalism, design, the humanities, media literacy and systems thinking – that challenge them to explore creative ways to better inform their community and circulate high-quality news. Each community college selected for the program will receive an award of $40,000, to develop and launch the certificate program at their institution alongside NJCH/J+D.
Participants will learn how to:
Produce quality journalism and media with and for your community
Better inform your community and share important stories, through digital media and other creative, engaging ways.
Understand how power functions and uncover what's driving the big issues you care about
Find credible information and share what's happening in your local government
Use design thinking to help you solve problems and create media that's responsive to local information needs
Become a more active participant and informed civic leader in your community
The request for proposals will open during the week of April 3, 2023. All 18 community colleges in New Jersey will be eligible to apply.
Think your college might be interested in participating? Reach out to Project Directors Valerie Popp, vpopp@njhumanities.org, or Cole Goins, cole.goins@gmail.com, for more information.
Fueling Grassroots Journalism is made possible by a generous grant from the New Jersey Civic Information Consortium. The Consortium, created by the state of NJ in 2018, is an independent, 501(c)(3) nonprofit organization that funds initiatives to benefit the State's civic life and meet the evolving information needs of New Jersey's communities. Learn more about their work and other grantees at: https://njcivicinfo.org.
NJCH is proud to be a sponsor of Stories Invincible, a Camden-based restorative narrative initiative that aims to support reporting by and for communities of color in South Jersey.
Throughout Fall 2022, a cohort of 10 remarkable reporting fellows from the area—including students, curators, organizers, public historians, instructors, and artists—produced restorative narrative storytelling projects about communities in the city of Camden. Stories Invincible reporters delved into topics including financial illiteracy, food insecurity, cannabis entrepreneurship, local artmaking, celebrating Black fatherhood, and more.
NJCH's sponsorship supported the work of two fellowship project aides, multimedia creator Myles Cream and WHYY reporter/Black In Jersey creator Tennyson Donyéa, as well as a in-person fellows' showcase in Camden at the conclusion of the fellowships.
To see photos from the showcase, go to: https://elliot99.pixieset.com/storiesinvincible/. To learn more about Stories Invincible and to meet the fellows, visit: https://storiesinvincible.org/.
Stay tuned for more news about how NJCH will continue supporting this program in 2023!
Stories Invincible Launch Event
Stories Invincible is a program of the Center for Cooperative Media at Montclair State University. The Center was founded in 2012 in response to the downsizing of New Jersey news organizations and the changes in the ownership of regional public media.
The Center coordinates statewide and regional reporting, connecting more than 280 local news and information providers through its flagship project, the NJ News Commons.
Learn more at https://centerforcooperativemedia.org/.
Democracy and the Informed Citizen
This grassroots initiative explores the essential role that the humanities and journalism play in creating an informed citizenry—and in turn, a healthy democracy.
NJCH is partnering with the Community Foundation of South Jersey and Journalism + Design at The New School to give more New Jerseyans the tools to effectively tell and share stories from and with their communities. Our 2022-23 work is focused upon South Jersey, a region that is all-too-often underrepresented in media coverage about the Garden State. The program includes training, hands-on project support, and network-building for community participants and members of the media.
The initiative is funded by the Mellon Foundation with support from the State Federation of Humanities Councils.
Trainings
Throughout spring 2022, NJCH organized a free "community scribe" training series in six South Jersey communities from CFSJ's Transform South Jersey initiative: Downe, Hammonton, Salem, Willingboro, Winslow, and Woodbury.
More than 15 residents from these towns participated in sessions led and designed by community-engaged reporting experts from Journalism + Design at the New School. Participants learned how to:
Identify and share important stories in their communities
Use design thinking, a process for creative problem solving, to develop a community-centered storytelling project
Conduct empathetic interviews and find credible information
Produce stories from their communities in a variety of formats
Network-building
Our South Jersey community scribe cohort is tight-knit—and we want to keep it that way! NJCH continues to support our scribes by regularly sharing opportunities and news from the local media landscape in New Jersey, and by hosting virtual and in-person events to connect them with the journalists and mediamakers who cover their communities.
Our networking events have featured professional and citizen journalists from outlets and projects including Bloomfield Info Project, The Courier Post, Free Press, Front Runner NJ, Newark News & Story Collaborative, The Philadelphia Inquirer, South Jersey Information Equity Project, Stories of Atlantic City, and WHYY, among others.
2022 Community Scribes
Not pictured: Meghan Wren (Downe Township), Shoanne Seijas (Downe Township), Denise Mazzio (Hammonton), Barry Stevenson (Salem), Joe Thomas (Winslow Township), Lisaraye Horne (Winslow Township), Christy Phillips Renzulli (Winslow Township), Renee Giustino (Woodbury)
The New Jersey Council for the Humanities wishes to thank the Mellon Foundation for their generous support of this initiative and the Community Foundation of South Jersey and Journalism + Design at The New School for their partnership.
NJCH announced in a press release the initiation of the Fueling Grassroots Journalism program, preliminary program information, and the $339,000 grant award from the New Jersey Civic Information Consortium to fund its development.
Cole Goins
Program Facilitator
Cole Goins is a community-focused journalist and facilitator with more than a decade of experience helping newsrooms collaborate and connect with the people they serve in new ways. He is the former director of community engagement at Reveal from The Center for Investigative Reporting, where he organized media collaborations and led public engagement initiatives. He was a senior fellow in the 2015 USC Annenberg Health Journalism Fellowships and previously served as engagement editor for the Center for Public Integrity. He holds a B.A. from the University of North Carolina.
Valerie Popp, Ph.D.
Program Facilitator
NJCH's Valerie Popp is an expert program-builder and scholar with a passion for working at the intersection of journalism and the humanities. At NJCH, she is the creator and program lead of Informed NJ, a collection of projects that promote civic engagement through journalism and media trainings, networking opportunities, and collaborations with partners such as media outlets, local journalism projects, and higher education institutions. She previously co-directed the Luce/ACLS Program in Religion, Journalism and International Affairs at the American Council of Learned Societies; this program deepened ties between scholars and journalists working in the field of global religions through fellowships and institutional grants.
She especially enjoys fostering community college partnerships and has helped steward initiatives such as NJCH's Museum on Main Street Smithsonian exhibit tour of six NJ community colleges; an upcoming convening of humanities community college faculty with the New Jersey Council of County Colleges; and the Mellon/ACLS Community College Faculty Fellowships, which supported the research ambitions of faculty at two-year colleges across the US.
Mika Fields
Advisory Board Member
Mika Fields was born in Philadelphia, PA, and raised in Willingboro NJ. She completed her academic years in Willingboro and graduated from Willingboro High School Class of 1994. She furthered her education by obtaining a Bachelor of Arts in Psychology from Kean University and has been working for over 15 years in the Social Services field. She returned to Willingboro after graduation got married and is currently raising two children in Buckingham Park.
In 2020 she started a therapeutic "paint and create" company called Muse Fusion LLC. Her main focus has been helping people cope with the stresses of the pandemic by encouraging them to be inspired, and utilize the therapeutic benefits of painting. In early 2021 Mika joined the Willingboro Community Development Corporation (WCDC) as the Project Coordinator and has been a pivotal force in bringing the WCDC's vision to fruition. Mika thrives to serve her town and became a Community Scribe with New Jersey Council for Humanities to enhance her craft.
Matthew Reed, Ph.D.
Advisory Board Member
Dr. Matthew Reed is an experienced community college leader and a national voice on higher education issues.  He is the Vice President for Academic Affairs at Brookdale Community College, and is currently on a sabbatical assignment as the chief policy and academic officer at the New Jersey Council of County Colleges.  He has also worked at Holyoke Community College and the County College of Morris. 
He is the author of "Confessions of a Community College Dean" at Inside Higher Ed, providing a community college voice to the national higher ed conversation.  He has a B.A. in political science from Williams College and a Ph.D. in political science from Rutgers University.
John Soltes
Advisory Board Member
John Soltes, assistant professor at County College of Morris, is an award-winning journalist who teaches all of CCM's journalism courses, including Introduction to Journalism, Advanced Journalism, Editing & Publication Design, and Sports Communication & Culture. At the college, he is also a co-director of two interdisciplinary institutes: The Legacy Project, which is a celebrated speaker series that has been going strong for 10 years, and Parks Program, which teaches students and community members about the value of protected lands.
Throughout his professional career, his work has appeared in a number of publications, including The New York Times, Earth Island Journal, New Jersey Monthly and Time.com, among others. He is also the publisher of Hollywood Soapbox, an online entertainment magazine.
Sara Hosbach
Advisory Board Member
Sara Hosbach is currently attending Ramapo College of New Jersey. She is pursuing her degree in Communication with a concentration in Global Media and a minor in International Studies. In 2022, she graduated from Brookdale Community College with her degree in Liberal Arts. She is a prior intern for Energizing Young Voters, an initiative of the League of Women Voters which provides civic education resources and opportunities for young people to become involved in their democracy. She is currently working on a media literacy presentation to make available to educators through this program.
Melissa Helmbrecht
Advisory Board Member
Melissa Helmbrecht grew up in southern New Jersey. In her youth, she was not engaged in school and failed both 9th and 10th grade — but her life was transformed when she met a homeless child who could not enroll in school because she lacked a permanent address. Melissa vowed to never fail another class, and has spent her life working tirelessly to advocate for children. Today, she continues that work as the Executive Director of Court Appointed Special Advocates of Cumberland, Gloucester, and Salem Counties and Give Something Back.
In 2016, Melissa created Hopeloft as an informal collaborative of nonprofits located in the heart of Bridgeton, New Jersey. Since then, Hopeloft has served as a springboard for community-led change, and under Melissa's leadership, the partnership has catalyzed more than $40 million in resources to incubate, launch, and support innovative solutions to social problems facing our communities. Follow South Jersey is one such initiative, which began in 2020 to serve the local information needs of southern New Jersey and is expanding to serve other communities as well.
Kim Pearson
Advisory Board Member
Kim Pearson is a professor of journalism and professional writing at The College of New Jersey, a  journalist who has been published in the Online Journalism Review, Black Enterprise, and Newsday, among other outlets, and a civic media researcher whose research on improving science literacy and civic engagement has garnered support from the National Science Foundation, Microsoft Research, and the New Jersey Council of the Humanities.
She represents TCNJ on the board of the New Jersey Civic Information Consortium. Pearson's professional affiliations include  the Online News Association, the Society of Environmental Journalists,  the Association for the Study of African American Life and History, Phi Kappa Phi and the National Association of Black Journalists. Prof. Pearson holds an AB in Politics from Princeton University with a Certificate in African American Studies and an MA in Journalism from New York University.
Erin O'Hanlon
Advisory Board Member
Erin O'Hanlon is a full-time faculty member focusing on community engaged journalism at Stockton University. There she coordinates social justice community organizing and works on capacity-building projects around gender equity, youth activism, and economic justice. Erin was the inaugural Activist in Residence at Stockton and helped to found the Women's, Gender and Sexuality Center. Prior to her work in the Stockton Center for Community Engagement and Service-Learning she was part of a local community partner for 16 years.
An alum of Stockton, she holds a Master's Degree in Instructional Technology and Design and is currently working on her Ed.D in Organizational Leadership.  Erin lives in New Jersey with her partner, Charlie Keys, and their four sons.  Her areas of research include assessing civic and community engagement, experiential learning methodologies and liberatory education.  Her personal research includes studying race in the media.